CUSTOM PRINTED RING BINDERS - THE PERFECT PRESENTATION SOLUTION
Create the WOW factor
Custom printed ring binders are extremely popular as the front and back covers, inside and spine can be fully customised with your images , graphics and text to ensure that your bid or tender will stand out from competitors and help you gain that all important competitive edge. You can place individual client tender numbers and dates on each cover, or number each binder individually to form a set, or each of your ring binders could have a different theme or colouration to differentiate them from one other. There are many ways to create stunning ring binders, unique to your business and your presentation.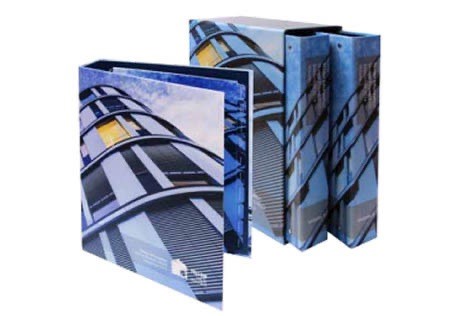 Small runs available
Thanks to high spec, high-speed digital technology, custom printed ring binders can also be produced in very small quantities, so that you can order just one if that's all you need, with no high set up costs.
This means that custom printed binders are not just for big organisations, they work extremely well for small- medium and start-up companies too, elevating a company's presentation to the next level as they are so cost effective.
Matching tab dividers and slipcases

You can also produce matching slipcases to house up to 3 binders to really crank up the wow factor!

To help present information in easily digestible chunks we can also produce custom printed tab dividers to match the ring binders and slipcases. These can be produced on 250gsm quality stock and are either gloss or matt laminated. The tabs are individually cut to suit your requirements and are printed with graphics, images and text unique to your business.

Range of standard and custom sizes
Custom printed ring binders and slipcases can be made to standard A sizes or your own specific bespoke size. Standard sizes are available in either landscape or portrait formats with sizes of A5, A4 and A3 and finishes of gloss or matt lamination to add a high end look to your presentation material.
You can also choose from different ring sizes, 25mm, 40mm and 65mm depending how much information you need to house in the binders.
Superfast turnaround

We can produce custom printed ring binders, tab dividers and slipcases with superfast turnaround to meet your deadlines (usually within 3 days depending on quantities) and deliver to one or multiple destinations, anywhere in the UK.
We can also either provide artwork templates for your design team or alternatively we can produce the artwork for you to help you create truly show-stopping presentation ring binders.