TOP TIPS FOR CHOOSING THE PERFECT POP UP BANNER
They are extremely popular and widely used at exhibitions, trade shows and events, as well as in reception and other display areas. As well as being extremely portable and easily transported between venues, they are very versatile as the banners can be easily changed to vary your marketing message as required.
There are lots of different types of pop up banners on the market so it is important to choose the right one that best suits your requirements. There are many deciding factors to take into consideration including quality, functionality, how light-weight and compact it is, and of course, appearance.
Choosing the right banner for its use
To ensure that your chosen banner is versatile and can be used in more ways than one, you must ensure that you plan properly and select the correct type of banner. Factors to consider will be the setting of your banner; will it be used indoor or outdoor? There are many varieties of pop-up or retractable banner available, including ones used primarily outdoors that have been manufactured with this specifically in mind.
Choose the best quality
Quality is probably one of the most crucial aspects of selecting the right banner for your event. Try to choose the best quality banner within your budget
Does it look good?
When investing in a pull-up banner for your corporate event, conference, exhibition or trade show, you must consider the appearance of your banner, including design and the overall look. Designing a banner that is eye-catching and clearly displays your message is crucial, as you don't want to waste any opportunity that you may have to engage with your target audience. Research shows that consumers tend not to read more than a third of a banner, so the design of your banner is imperative. Don't cram it full of text, because the chances are, it won't be read. Also ensure that your message is unique to help you stand out from your competitors .
Types of banner stands
Wide banner stands – Wide banners are suitable for businesses that want to create a big impact using an extra-large graphic area. This type of banner gives you a lot more space for both images and texts, so great if you would like to display a lot of information, or just have a bigger presence at an event.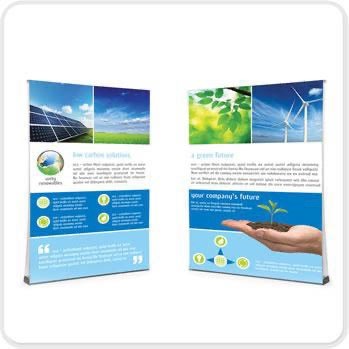 Double sided banner – If you are looking to create brand awareness at an exhibition or event but want your message to be seen from both sides, a two sided banner is the answer.
Not only does the double sided banner offer you two large visual areas to present your marketing message to your target audience, but they are also very portable and can be stored easily.
Premium banner stands – Premium banner stands are extremely popular with our clients, as they provides a supremely high quality and brilliantly impactful way to present any type of promotional or marketing message. As well as being easy to transport and store, they also feature a large graphic area to display high-resolution images.
The fantastic benefit of using a premium banner is that they last a lot longer due to their durability and scratch resistance; so if you are looking for a banner that will stand the test of time and provide that quality branding you need at your exhibitions this summer, then this is definitely the type you should choose.
Standard banner stands – Ideal for use at trade shows, exhibitions and promotional events, the standard banner encompasses all of your needs for creating engagement with your brand. All of our pop-up banners are manufactured to a high level on high-quality light-stop exhibition film using UV stable, fade resistant HP inks.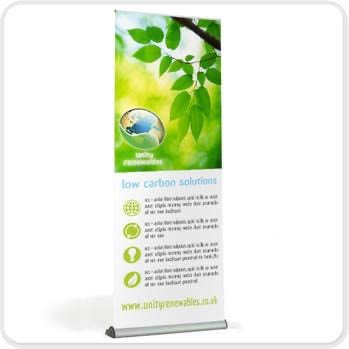 For more information on the best choice banner stand for your event, visit our website or contact us on 0191 232 5454. We stock a huge range of portable banner and roller stands, as well as pop up banners and other varieties of exhibition stands.